Joel has been with us basically since day one training in Scott's garage! He came to us overweight and with chronic knee issues (multiple knee dislocations) which made it extremely hard to keep playing his sport of choice (soccer).
Those knee issues are a thing of the past now as Joel is one of the strongest and most skilled athletes at our gym!
What do you enjoy most about coming to 365 Performance?
I enjoy the people and the friendships I've made.
Name some of your achievements since starting with 365 Performance:
Losing 18 kilos and changing my life for the better. Living a healthier lifestyle that not only affects my performance at the gym but spreads out across other areas of my life.
Favourite movie: Law Abiding Citizen
Favourite food: Pho Soup
Favourite WOD or movement: Grace
Who or what inspires you?
Seeing other people succeed inspires me to stay on the grind!
Something people may not know about you:
I cry every time I watch The Notebook
~We are so proud of you Joel and you should be too for how far you have come!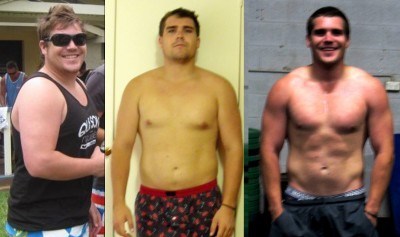 Come in for a FREE Intro Session, discuss your SPECIFIC goals and see if we are a good fit.
You don't need to be "in shape" to come to our gym, nor do you need prior fitness or training experience to achieve your goals with us.
The Free Intro Session is a chance to see our gym and get a feel for 365 Performance.
These meetings are one on one with one of our friendly and knowledgeable coaches and last for around 30 minutes.
Feel proud for taking action

Get focused knowing what you need to do to reach your goals

Start feeling better and have more energy and confidence
Don't be like others who spent years 'thinking' about it. They ended up just being another 5-10kg+ heavier and in worse shape than they are now.
Take action and complete the form on this page to organise a Free Intro Session with us now.