What do I enjoy most about training at 365 Performance?
Everytime i think "that's not even possible" i can look across the room and see someone that's doing it. I'm surrounded by people who demonstrate that the only limits are the ones you place on yourself.
Some of your achievements since starting with 365 Performance?
I've dropped from 110kg to 93kg in 9 months.
I've increased my 1rm deadlift from 120kg to 180kg (thanks Dave!) and my back squat 1rm from 80kg to 140kg
Favourite movie: I'm going to have to say LA confidential. But i have seen Star Wars over 300 times. I did the math. I'm pretty sure.
Favourite food: Steak. Especially when cooked at Kingsleys at Woolloomoolloo wharf. Seriously. Have a steak there during a hot summer night. Treat yourself.
Favourite WOD: Chippers. Just keep moving forward. Embrace the suck and suffer. But keep moving forward.
Something people may not know about you: The first movie i ever saw was "The Empire Strikes Back". It was at the Cinema. I was three years old. When Darth Vader appeared on screen for the first time, i climbed into my Dads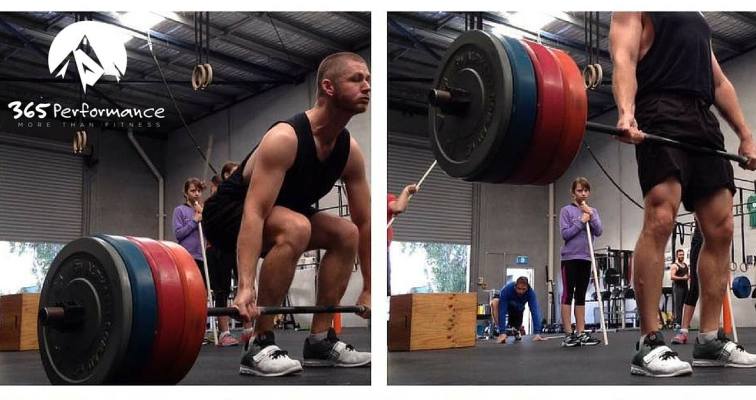 Come in for a FREE Intro Session, discuss your SPECIFIC goals and see if we are a good fit.
You don't need to be "in shape" to come to our gym, nor do you need prior fitness or training experience to achieve your goals with us.
The Free Intro Session is a chance to see our gym and get a feel for 365 Performance.
These meetings are one on one with one of our friendly and knowledgeable coaches and last for around 30 minutes.
Feel proud for taking action

Get focused knowing what you need to do to reach your goals

Start feeling better and have more energy and confidence
Don't be like others who spent years 'thinking' about it. They ended up just being another 5-10kg+ heavier and in worse shape than they are now.
Take action and complete the form on this page to organise a Free Intro Session with us now.