We'd love you to meet Susan. She is 60… So drop the "I'm too old to lose weight" or "it gets harder as you get older". It can be done, stop holding yourself back from reaching YOUR goals!
Susan has gone from 36% body fat down to 28% in 12 weeks. Her lean body mass (hello muscles!) has increased from 52.6kg to 56.4kg over the 12 weeks.
Susan has made some changes in her lifestyle to better lead her to success, and overcoming things that were holding her back and making her frustrated (BOOM!).
The exciting thing is, she is doing this program for 24 weeks, so we'll keep you posted in a few months on how Susan is tracking with her weight loss progress!
Here is what Susan has to say about our 12 week Nutrition Program (which is #MoreThanFitness):
"I have tried quite a few 6, 8 and 12 weeks programs, and I found them unrealistic as a sustainable nutrition/food/life program. When Coach Aroha suggested I give their program ago, I was skeptical to say the least.
The first surprise was to learn that I as starving myself. The second surprise was the volume of food!! I am never hungry. I have loads more energy. I sleep better because I can train harder. The third pleasant surprise is the support and encouragement from the 365 Performance Team which has been outstanding.
The photos are a testament to the Program. I am looking forward to the next stage… Let's do this!!"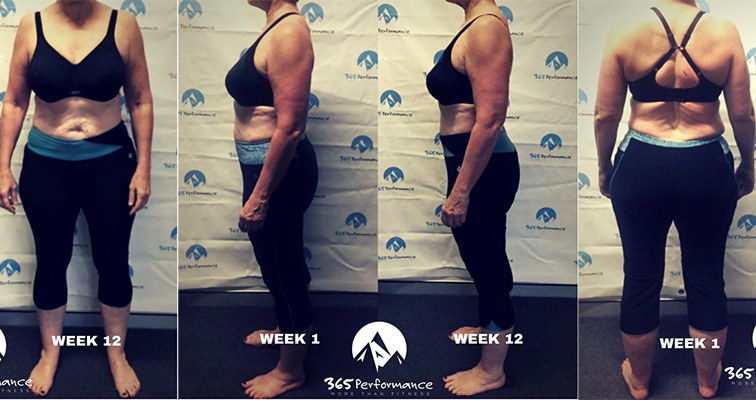 Come in for a FREE Intro Session, discuss your SPECIFIC goals and see if we are a good fit.
You don't need to be "in shape" to come to our gym, nor do you need prior fitness or training experience to achieve your goals with us.
The Free Intro Session is a chance to see our gym and get a feel for 365 Performance.
These meetings are one on one with one of our friendly and knowledgeable coaches and last for around 30 minutes.
Feel proud for taking action

Get focused knowing what you need to do to reach your goals

Start feeling better and have more energy and confidence
Don't be like others who spent years 'thinking' about it. They ended up just being another 5-10kg+ heavier and in worse shape than they are now.
Take action and complete the form on this page to organise a Free Intro Session with us now.