Stop Letting The Scale Do Your Head In.
When you're thinking of losing weight or simply want to see how healthy you are, you probably do one of two things: step on a scale or calculate your BMI. But the truth is, these methods don't tell you anything about how healthy you are– all weight and BMI does is compare how heavy you are to a standard that doesn't fit your individual goals.
When you're trying to get healthier, you're most likely going to lose fat and (hopefully) gain muscle. But BMI and weight don't differentiate between muscle and fat. So how can you? Through body composition analysis.
Body composition analysis is a method of describing what the body is made of, differentiating between fat, protein, minerals, and body water to give you a snapshot of your health. InBody is the leader in body composition analysis, and we're here to teach you the importance of it to help you reach your health goals from the inside out.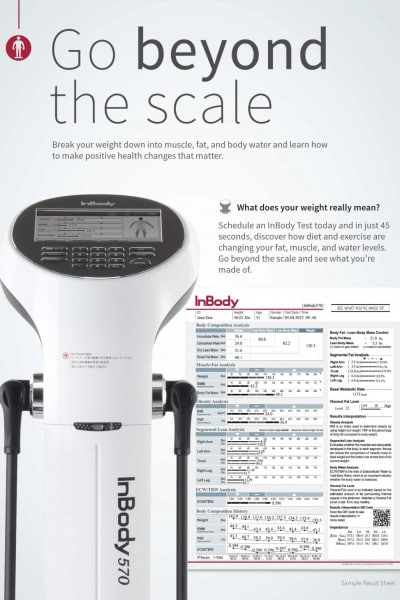 What is body composition?
Body composition is used to describe the percentages of fat, bone, water, and muscle in human bodies. Two people of same sex and body weight may look completely different from each other because they have a different body composition.
Body composition and growth are key components of health in both individuals and populations. The ongoing epidemic of obesity in children and adults has highlighted the importance of understanding body fat levels for short-term and long-term health. However, other components of body composition also influence health outcomes, and its measurement is increasingly valuable in clinical practice.
Why do you need to differentiate between muscle and fat?
Health practitioners universally agree that too much fat is a serious health risk. Problems such as hypertension, elevated blood lipids (fats and cholesterol), diabetes mellitus, cardiovascular disease, respiratory dysfunction, gallbladder disease, and a myriad of other health problems are all related to obesity.
The ongoing epidemic of obesity in children and adults has highlighted the importance of knowing a person's body fat for short-term and long-term health. An important part of understanding a user's health is differentiating between what is healthy and what is not, especially when it comes to fat.
It's common to assume that having as little fat as possible is healthy. However, being thin does not automatically reduce one's health risk. Being thin refers to weighing less than the recommended values in age-height-weight tables. Leanness, however, refers to the muscle, bone, and fat composition of one's body weight. Being lean intrinsically indicates greater muscle mass development than thin.
How are you measuring health?
BMI is an outdated method
Body Mass Index (BMI) is a common method used to assess the health of an individual by comparing the amount of weight they carry to the height of the individual. In its most basic sense, BMI may be useful for identifying those who are at an increased health risk as a result of excess fat accumulation.
Despite the widespread use of BMI in clinical practice, BMI has many limitations and is a poor tracking tool for weight change because there's no way to identify if changes in your weight are in fat or muscle. That's because BMI is calculated simply by dividing a person's weight in kilograms by their height: BMI = kg/m2
Predicting health or mortality using a single number such as BMI oversimplifies health risks and ignores important factors that contribute to positive health.
Newer technologies are able to separate body weight into specific components that can be examined separately, like DSM-BIA.
According to BMI, two individuals of the same height and weight will always have the same obesity risk, regardless of the amount of fat or muscle that an individual maintains – Which is wrong!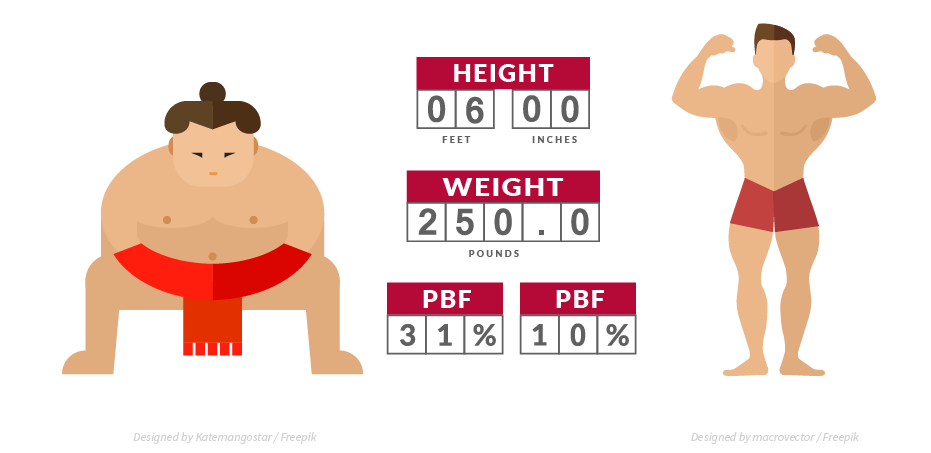 PBF= pounds of body fat/body weight. PBF allows you to assess the ratio of muscle to fat for your weight so you can set realistic and achievable health goals for yourself.
Focus on body fat percentage instead
As you move away from BMI, you should focus on the percentage of body fat you have at your weight. At 365 Performance, we call this PBF (percent body fat).
There is no consensus on what the best body fat level for health (the amount of fat storage that maximizes health by minimizing risk for adverse health states/conditions) is for the general population.
The normal body fat range provided by InBody is set at 10-20% for males (15% as ideal) and 18-28% for females (23% as ideal). This is a great starting point to arrive at with your health and body composition goals.
Are you ready to see what you are made of?
Get your new baseline and track your progress the right way – Book your scan today!
Why Choose 365 Performance
"I used to go the the gym but had no idea what I was doing… I lost 22kg in the first 8 months here. My whole mindset has changed. I'm a better person and a better Father."
Theo Karabetsos
Accountant
"The best thing is I had my own Coach from the start… They taught me how to move safely & helped me with my own personal nutrition – I've lost over 15kg."
Sabrina Loria-Brady
Maintenance Contracts
"The coaches here guide you through everything, they also help you with your nutrition. I've totally changed my body composition and inspired my Wife & Kids to join"
Jason Ognenovski
Business Owner
365 Performance Chipping Norton
Address
Unit 33, 25-33 Alfred Road,
Chipping Norton, NSW 2170.
Main Areas Served
Chipping Norton, Moorebank, Holsworthy, Hammondville, Liverpool, Warwick Farm.
Operating Hours
Mon-Fri 5:30am-8pm
Sat 7:30am-11:30am
View Chipping Norton Group Training Schedule
365 Performance Milperra
Address
Unit 5, 112 Ashford Avenue,
Milperra, NSW 2214.
Main Areas Served
Milperra, East Hills, Georges Hall, Panania, Revesby, Padstow.
Operating Hours
Mon-Fri 6am-8pm
Sat 8:30am-10am
View Milperra Group Training Schedule