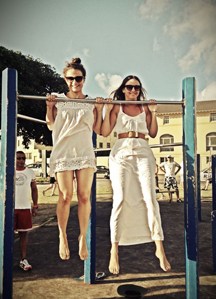 My initial thoughts on CrossFit: Hard. Strong. fit. Me = Apprehensive. My friends starting training with Scott a couple of months before me, I now regret not starting sooner because they are fitter, stronger and faster than I am.
The reason I started at CrossFit was because my friend said 'I'd enjoy it' (much to my surprise). And I can honestly say, I am now a CrossFit addict! Since beginning training a few months ago, I have seen the most difference in my body and My fitness ever. I've been to gyms, I'd go for two hours 5 times a week and still not had the same results I have seen now, years later, and to me this doesn't make sense because I'm older, and the workouts are shorter! After just a few months I've lost two dress sizes and am down three notches on my belt. I am happy with my body for the first time in eight years.
Going to the gym is NOT boring like the ol' treadmill. My classes are full of quality people who cheer me on when they see pain in my face, these people I now call my friends see me at my worst and all have the ability to make me smile. Scott has motivated me and my friends to push ourselves, this year I did the City 2 Surf (14km) for the first time in my life, and then following a few weeks later he suggested the Blackmores Half Marathon 21km's…. 2 hours 18 minutes later!
My next big goals are the six foot track hike (Blue Mountains) and a trip to the Himalayas to trek to the ever beautiful Everest base camp. Stop making excuses like I did!
UPDATE: Since writing the testimonial above, Aroha has inspired BOTH of her parents to join us. They are absolutely loving it here and doing things they never thought possible as you can see from the picture!