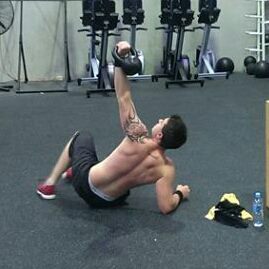 I started CrossFit at 365 Performance in February 2013. I used to go to traditional gyms, never happy with my size or shape or how I felt about myself or the results I was (or wasn't) getting.
After speaking to my cousin he urged my to try 365 Performance on a recommendation from his trainer in Wollongong. Since that day I have never looked back. When I started I was a chubby, chain smoking, heavy drinking, drug taking, medicated mess. I had zero self esteem and felt like there was no coming back from where I was. 365 Performance changed all that. Within 4 weeks I lost 4kg. Within 8 weeks I was clean, sober and quit smoking. Within 4 months I was free of anti-depressants and have never felt better.
365 Performance and the coaches and clients don't just train your body they train your mind. They push you to grow, always at your own pace, the community supports you regardless who you are. There is a sense of family and companionship never one of 'one up-manship' or malicious competition. I get such a sense of accomplishment every session, I feel more alive and stronger/fitter every day. For me CrossFit was a game changer, literally a life saver.
By training my body and becoming happier with myself I was able to train and cleanse my mind as well making me a better person a stronger person and a more passionate, focused and driven person. For me the greatest achievements come from conquering my mind and my perspective. If you want to get fit, this is the place to do it. However for me the physical transformation (although amazing) pales in comparison to the mental transformation. I am more confident, more certain, happier, more kind, more focused, I have self esteem for the first time in years and I owe it all to the 365 Performance community.
What else can I say? This will change your life for the better if you have the will and desire to change. Don't let fear stop you don't be worried that you can't do it, just show up, train hard and watch yourself transform with the help of these amazing coaches and clients.